Get Acquainted with the 2023 Cadillac LYRIQ Show Car

Cadillac is pushing the boundaries of automotive innovation and design to create an SUV truly unlike any other. Entering as a completely new model in the Cadillac lineup, the 2023 LYRIQ is the brand's first-ever, fully-electric luxury SUV. From its sleek, aerodynamic exterior to its innovative, immersive interior, the LYRIC's aesthetic stands apart from other luxury SUV competitors.
When it comes to mechanical design, Cadillac utilizes the latest electrification technology to ensure seamless delivery of thrilling performance, fluid aerodynamics and a significant driving range. As a result, the LYRIQ is sure to stand out not only against other luxury SUVs, but also against other electric vehicles in general.
The LYRIQ is currently presented as Cadillac's show car. As Cadillac continues to improve and develop the SUV, the LYRIQ's anticipated timeline to hit showroom floors is late 2022. In the meantime, Cadillac's LYRIQ preview has given us lots to get excited about. We'll take you through what we know so far.
Exterior Innovation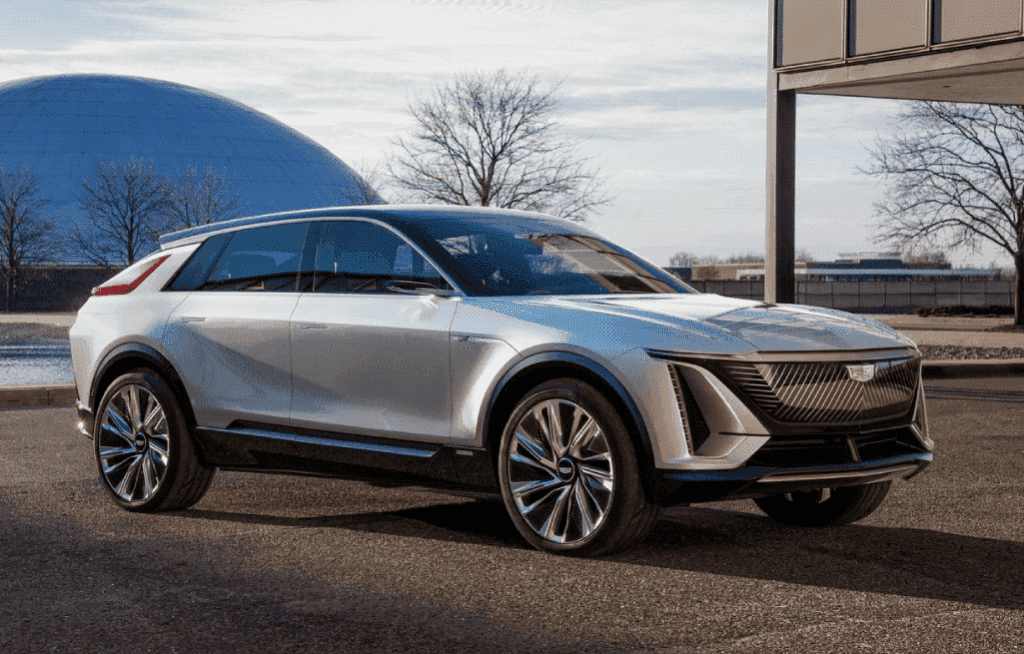 Get Acquainted with the 2023 Cadillac LYRIQ Show Car
The LYRIQ features a sleek, sloping profile with fluid contouring and a wide body stance. The exterior was designed to maximize aerodynamics, reduce wind resistance and preserve vehicle energy. The LYRIQ's wide body stance and low center of gravity is meant to improve corner handling. This show car also showcases a full-glass two-tone roof. The roof is designed to not only create picturesque views for passengers, but it also complements the LYRIQ's overall sleek appeal.
LED lighting is a striking contrast against the LYRIQ's fluid body contouring. Illuminating LED taillights accent the LYRIQ's rear profile, and its LED headlights frame the textured front grille. The front grille is also illuminated and features LED Cadillac badging.
The LYRIQ sits on 23" wheels to achieve a dramatic wheel-to-body ratio. Additionally, the wheels showcase a unique spoke design, finished in a Juniper-tinted matte.
The LYRIQ's body design and its elegant exterior features come together to create a truly striking first look.
Interior Luxury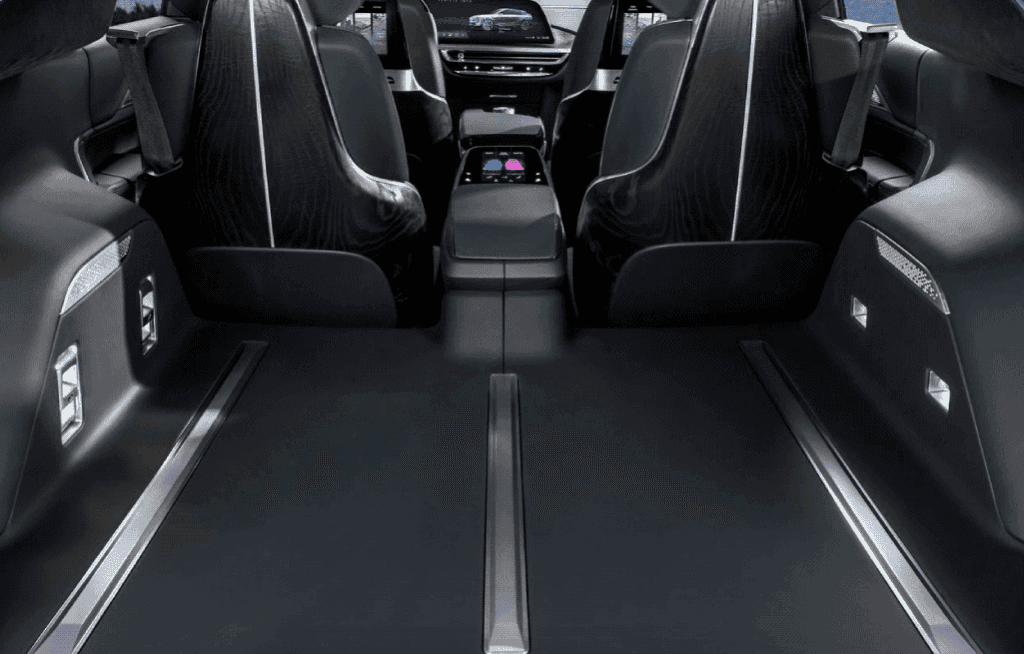 Get Acquainted with the 2023 Cadillac LYRIQ Show Car
The LYRIQ will feature a spacious, 4-passenger interior that emanates comfort and luxury. Seating will be finished with Juniper-toned leather, paired with Moon Glow aluminum accents throughout the cabin. Side doors will feature a perforated speaker pattern as well as LED lighting embedded in the pattern.
As you sit behind the wheel, you'll notice the 33" LED touchscreen that displays both the vehicle instrument cluster and infotainment. The rear seats are divided by a center console that also features a touchscreen display. A 3-seat second row option may become available as the LYRIQ gets closer to production, but so far, we know that the 2-seat second row allows for versatile storage capability. And the LYRIQ's cabin will be equipped with advanced noise cancellation technology.
Advanced Technology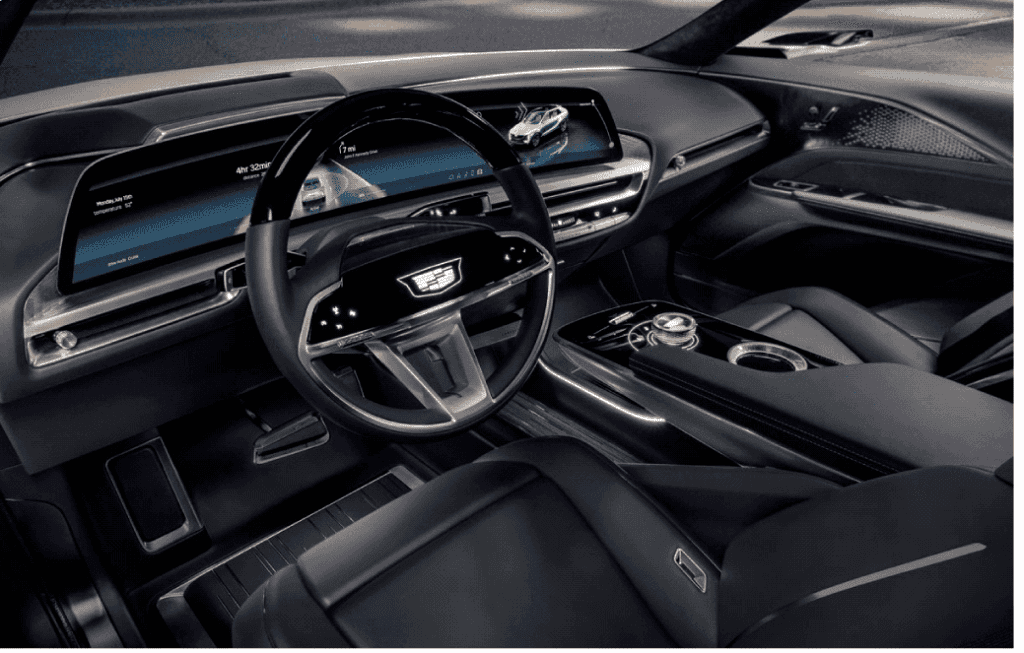 Get Acquainted with the 2023 Cadillac LYRIQ Show Car
The LYRIQ is expected to offer standard Apple CarPlay, Android Auto and Wi-Fi hotspot capability. The LYRIQ will also feature a 19-speaker AKG audio system to deliver you with a clear, immersive audio experience.
In addition to the vehicle's 33" LED display, you'll also receive the convenience of the LYRIQ's augmented reality head-up display. The head-up display will show 2 planes: one to indicate vehicle speed and direction, and one to display navigation signals and other important alerts.
Finally, the LYRIC will offer Cadillac Super Cruise technology: the first truly hands-free driver-assistance feature for highways.
Electric Performance
The LYRIQ will be standard with a rear-wheel drive form, equipped with an electric motor situated on the rear axle. All-wheel drive will be optional, and this will add a second motor to the front axle to power those wheels. Cadillac's new Ultium propulsion system is the structural element to the LYRIQ's body chassis. Ultium provides a near 50/50 weight distribution and gives the LYRIQ a low center of gravity. The result: a sporty drive with responsive handling.
Based on Cadillac testing, the LYRIQ promises 482 km of expected range on a full charge. You can feel confident about getting to your destination with ease every time you hit the road. Additionally, the LYRIQ will offer at-home Level 2 (AC) charging rates of up to 19kW and public and DC fast-charging rates of up to 150kW.
Worth the Wait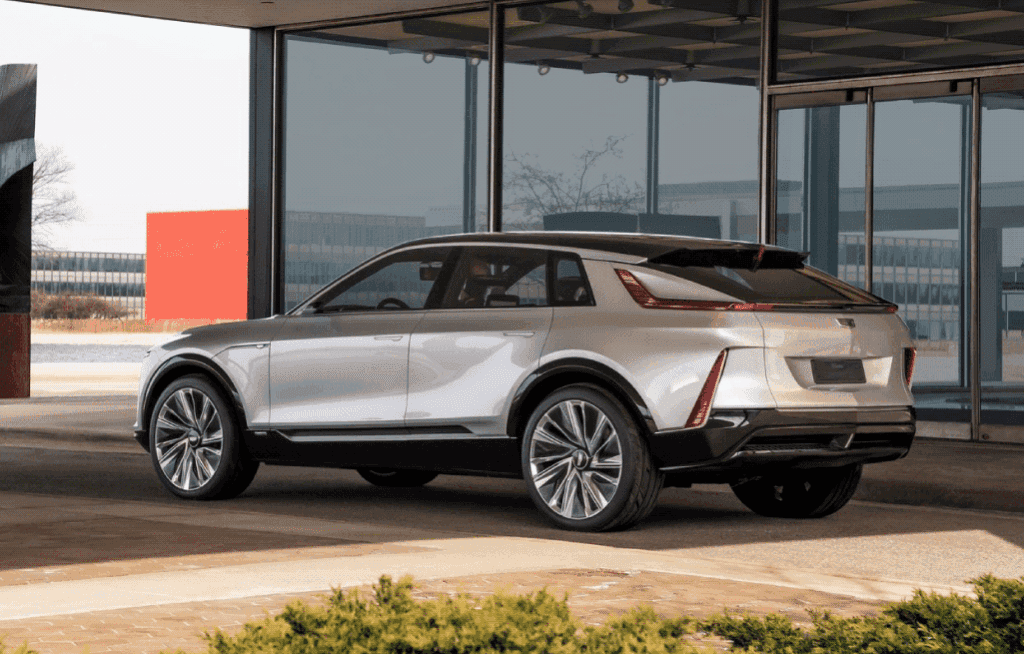 The future of electric vehicles is exciting! The future of electric vehicles is embodied in the 2023 Cadillac LYRIQ.
The 2023 Cadillac LYRIQ will offer you a truly electrifying luxury SUV experience. To sign up for LYRIQ updates and to view more of this show car for yourself, fill the form below.
Contact our team and we will provide you with up-to-date information on the LYRIQ, as well as with general electric vehicle information.